Where it's at (I got two turntables and a microphone)
To set the scene I thought I'd explain something about the car – what it is, what it's made of and what state it's in now.
You can think of this post as a history lesson in my Triumph Spitfire racing car.
The car is a 1972 Triumph Spitfire MKIV built by the venerable British Leyland probably sometime just before home-time on a Friday after everyone had been to the pub for a lunch of crisps and beer over a game of darts.
[Notes : The car was built in 1971 but not registered on the road until 1972]
Originally it was Saffron yellow (which was a sort of muddy/mustard yellow very popular on Minis at the time) but when I acquired it in the late 90's the previous owner had painted it red (of course) and fitted a white soft top.
It was, for a while, my daily driver and bête-noir. It was always having problems with the electrics or carbs or fuel pump or prop-shaft UJs. I don't think it had been looked after very well and at the time my mechanical aptitude was limited to doing things like removing the spark-plugs, cleaning them and putting them back hoping it would help.
So, with zero mechanical knowledge I decided I could 'make it better' and thus began its chrysalis phase. You see, I didn't have a garage at the time, so I put a big, loose silver car cover over it and worked on it when weather permitted. I was initially simply going to make it a bit faster (fat exhaust, bigger carbs) – but as the transformation took place, I read Jon Wolfe's book (essential reading for anyone considering something as stupid as racing a Triumph Spitfire) and was intrigued. After a visit to Brands Hatch to watch the Triumphs racing I was hooked.
Eventually, this emerged.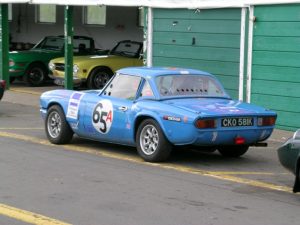 And I signed up to race in the 'road sports' class of the then TR Register/TSSC championship. Road sports rules meant that the car wasn't heavily modified – the suspension had been uprated, I'd put bigger carbs on and done all the safety stuff. For the first season I was racing with the same engine, gearbox and diff that had been in the car since it was born, I hadn't even taken the head off the block.
Christ it was slow though… but I didn't really care, I was racing – or at least circling round near the back.
I raced in the road sports class for another 4 years or so, gradually making the car faster as I learned about setting it up and working on it. Over the years I took a leaf out of (copied) Russell Munns and migrated from a 1300cc engine to a 1500cc engine. This was contrary to common wisdom on the subject as the 1500 block is prone to big-end problems. However, Russ was, at the time, the fastest road sports car and I wanted to be that instead. Good times. Most of this important historical record is available on the web still (see previous post) so I won't bang on about it too much. [Note : Now all the old content regrouped onto this site]
After a while I decided I wanted (needed) to go faster, so I moved myself into the 'modified' category. The modifications I made for this are pretty much the state of the car now, so I'll list the important ones from the top of my head.
* Hooooge front discs with Wilwood calipers
* Electric water pump and Nippon Denso tiny wee alternator
* Very modified 1500 engine – all the usual including (but not limited to) lightened flywheel, cross-drilled crank, fancy pistons/rods, crazy cam, big ass valves, dual vernier timing chain etc. etc.
* Big Weber side draft carbs.
And so on… The car is fitted with a full, bolt in, safety devices cage. I think on a Spitfire with a hard-top, due to it's age, you might just about get away with racing in MSA events with only a rear hoop but seriously it's not very sensible or safe like that.
So, it was in this 'state of tune' that the car last competed at Silverstone in the Birkett 6 hour relay race at the end of 2007. It wasn't the fastest Spitfire out there nor was I the fastest driver but it ran reliably, reasonably quickly and kept out of trouble.
It's been in my garage since then as shortly after this race we moved to France.
I've stripped it down and am rebuilding it, hopefully to race again later this year. The plan is to put right all the bad that has been done over the years (quick fixes in the paddock to keep it racing that have persisted, dings from being hit by other cars etc.) I also want it to look nice again.
The TSSC/TRR racing series had a lot of fairly 'scrappy' looking cars, mine included on occasion. I'd rather have something that looks like a Spitfire MKIV, not quite concourse condition but pretty close. I think I'm going to get it road registered here in France and may compete in other events (hillclimbs, rallys etc.)
I'm documenting the rebuild on flickr, you can follow the photostream here, but I'm also hoping to highlight bits and bobs on the blog.
Cheers!
Richy