Fuel
Notes from the future : Not much to say here, again this is old content that I wrote before I had any idea what I was talking about.  The advice to do what Jon Wolfe says is probably still about right.  Interestingly, the only piece mentioned below that is still on the car is the Facet fuel pump, I've changed the filters in it a few times but it still chugs away and does it's job nearly 20 years later.. (also note that I just bolted it to the boot floor without thinking about it, it worked but these cylinder pumps are best mounted vertically with the filter housing at the bottom and the outlet at the top)
I'm going to run it on rocket fuel and gin.
Well, actually no. This is what I'm going to do.
Carburettion – I love that word. Currently the car has 2 x 1 1/4″ SU's fitted. That would never do, so in my stash I have a couple of 1 1/2″ carbs and a manifold ready to rebuild, modify and fit.
That's what I said a couple of months ago. Well, I still do have a set of 1 1/2″ carbs in my stash. I also have a pair of fully reconditioned ones complete with manifold and linkage, ready to just bolt on to the car. I picked these up from the TR Register International, and dead chuffed with them I am too.
This (along with the rest of the car) will then be set up on a rolling road by a man who knows a lot more about carburettors than me. I'm pretty sure that the old 'line the jet up with the bridge and knock it down 12 flats' works adequately well, but as Jon Wolfe mentions in his book
I've seen an 8 BHP difference between standard and modified HS4's (1 1/2″ SU's) on a full race 1300cc engine…
Exactly what you need to do to modify them is detailed in his book – Beware though – as far as I am aware you can't open out the ports on the cylinder head.
Fuel Pump – This was possibly the first thing I've done so far that reminded me that I'm building a race car and not undertaking some tedious restoration project. I went to Burton Power (on the A12 near Ilford) and purchased a Facet fuel pump kit, along with miles and miles of fuel hose and a pressure regulator. I use the pressure regulator to salve my paranoia of the float valves in the carbs being forced open and fuel flooding all over the exhaust manifold. Installation was simple, and looks impressive.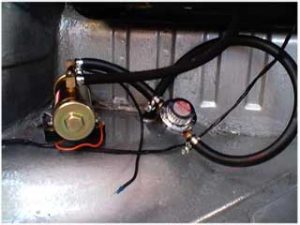 Fuel Tank – As mentioned on the safety page (now a post), this will need fitting with a non-return valve. Otherwise, I think I'll leave it in for now. I could go to the expense of replacing it with a foam filled ultra-lightweight one but I could also go to the expense of buying a Ferrari.