Safety
Notes from the future : Again, this was written in 2001.  It was pretty much all I did at the time to get started, but safety has come a long way since.  It's here out of historical interest but if you're in the UK you should really follow the relevant sections of the MSA Blue Book and for europeans the FIA Safety regulations
Safety…
Safety first, racing later. Well, that's what they say. A lot of this safety stuff is common sense and some of it is regulation.
Here are a few of the things I'm doing, I'll add more as I think of them/do them.
Master Cut Out Switch – to disconnect the battery in an emergency (also useful when working on the car). This is what I said a while back, I've actually had a couple of realisations since then. Firstly, disconnecting the battery doesn't stop the car, and secondly you don't need 2 cut out switches. Any FIA approved cutout switch comes with 6 connectors. 2 bloody big ones which get spliced into the battery lead and 4 little ones, 2 of which are used to cut the ignition and 2 of which earth the circuit (through a resistor) when the switch is in the off position).
See diagram.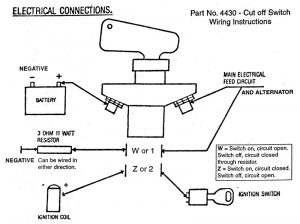 The 'earthy thing' is basically there to earth any residual current kicking about when the switch is turned off mid-flight, this should prevent any damage to the alternator etc. Anyway, if you buy one it should come with full instructions. Please don't take my word for it, as always follow the manufacturers instructions. They made it, they ought to know how it works.
If you have a cut out switch that only cuts out the battery, then I think you'll need to invest in one that cuts the ignition as well, cutting the battery is all well and good, but as I found out, the car will quite happily run on using the alternator as it's power source.
My second revelation was that all these switchy things have a little hole in the key. Cor, I just noticed that I included that in the diagram too. So, a kill switch outside the car can be effected by running a pull cable to the switch inside the car. Using this method also has the advantage of allowing you to 'disarm' the external pull switch if so required. This will be useful if, for example like me, you plan to keep the car road legal as it will prevent young scallys cutting your engine for you while you are waiting in traffic.
Roll Cage – Quite useful for two reasons. One, it stops your head getting squashed and two, adds rigidity to the structure of the car (for better handling). There are regulations about this, so make sure you get an FIA approved bar and fit it to the standards required (see the MSA Blue Book).
I got mine through the TSSC, it is made by Safety Devices and comes with all the necessary approval stuff to keep the scrutineers happy.
Fire Extinguisher – Puts out fires. A handheld one will do (as long as it's mounted securely). I'm considering fitting a mechanically activated 'plumbed in' device. This is basically a normal extinguisher with a couple of pull cables to set it off (one inside one outside) and some piping to direct it's output (usually some in the cockpit and some in the engine bay).
Towing Points – There are no front towing points on a Spitfire. I need to add at least one. There are 2 at the rear.
Firewall – The bit of cardboard trim between the fuel tank and the passenger compartment is, for some reason, seen as unsatisfactory by the MSA. It needs replacing with a fire and liquid proof panel of some kind.
I was planning on pop riveting on a sheet of steel or similar and sealing it with liquid metal. I'm not sure if this will do (I've seen it done on other cars – but that doesn't often count for much). Otherwise, it's out with the fuel tank and in with the MIG Welder.
I'm still somewhat stuck on this, I've been informed that I don't need to weld anything, and as long as it's sealed with intumescent (fire/liquid proof) putty a thin sheet of alloy bolted into place should suffice. However it's quite a complex shape back there. I need to do more research.
The front bulkhead must also be sealed up.
Stickers – Yep stickers. All cut out switches, pull cables and tow points need clearly marking with the appropriate stickers.
Seats and belts – For Class A cars, I'm pretty sure that you can race them with the original seats and belts. I daren't.
I need to research this a bit more, but basically I'd like 2 well fitting (and safe) bucket seats and a couple of 4 point harnesses please. I do seem to remember that reclining seats are not allowed.
Battery Earth Lead – Should be yellow. This is to help stewards identify it in a hurry. Mine is already, but as far as I know you can simply tape it up with yellow masking tape.
Petrol Tank/Vent – There should be no possibility of fuel leaking out of the tank/vent when the car is inverted, this can either mean fitting a non-return valve (FIA approved only, I think) on the tank vent or looping pipe the whole width and height of the boot.
Demon Tweeks sell approved non-return valves. I think I'll buy one.
Another option is to buy a proper racing tank and fit that. However, they are prohibitively expensive…