Suspension
Notes from the future :  We're getting into the meat of things here, again none of this stuff stayed on the car for very long once it actually got out on the track, but as I've mentioned in previous posts this is how I got started and what I thought I needed to be doing all those years ago.  I wouldn't follow this advice now.  When I have finished restoring all this old content I'll go over these topics again with the benefit of much hindsight 🙂
This I've done quite a bit of work on so far.
Front – Replace shocks and springs. I've chosen and fitted some uprated springs and adjustable Spax dampers. The picture you see before you is how it looked before. (After coming soon). [Both pictures are missing… sorry]
I have also done the following…
Complete strip down of front end. Clean, rust-treat and paint mountings and wishbones (upper and lower).
Replace all bushes with polywhatsitsname ones. Refit.
Replace vertical links, trunnions, upper ball joints and associated bolts, washers and bushes.
Here are some spanking new vertical links.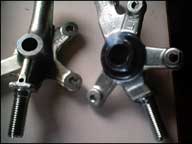 Rear – Pretty much the same story, I'm going to strip the lot, replace what is likely to be knackered and play with it like that for a while.
The rear spring is slightly weak – I'm 99% sure that this is a good thing and gives me quite a nice amount of negative camber, so I'm leaving it. The rear shocks will be replaced with adjustable Spax.
07/07/01 – Hmm, well the front is now done. Brakes et al. (Photos soon)
I'd recommend anyone attempting this buys the TSSC spring compressor. This made everything so much easier (and safer) than the usual hook type compressors and at about twenty quid you can't go far wrong.
Here it is being used to assemble the front.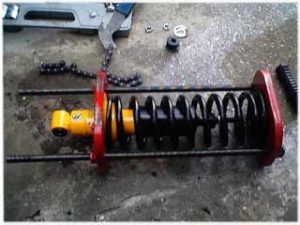 The rear is, however, proving more difficult. So far, I have only managed to strip one side down – and I still can't get the rear trunnion bolt out of that. I think I'm going to have to attack it with a saw or drill it through.
I've pulled the half shaft and am considering replacing them as well. I was fairly happy to find quite a lot of play in the universal joint here as this may go some way to explaining the annoying vibration at speed. All UJ's are being replaced as a matter of course.
02/09/01 – Yay, the suspension is finished. How? I hear you indifferently asking. Well, I bought 2 reconditioned half shafts from a guy who races Heralds up in Leicestershire. He'd bought them from Jigsaw. I'm a firm believer that if things get too hard just throw money at them, and so I did. But I think it was worth it, they came fully assembled with rear breaks, new bearings, the lot. However, I did have to change the flanges for the slightly larger ones (as on my diff), but they're on the car. And the car is back on its feet. And I'm glad I don't have to spend any more time worrying about the sorry state of the underside, for a while at least. So a big thank you to Dave Lyons for selling me the bits and Simon Higston for putting us in touch. It's like that flaming BT advert innit…