Oops! Hehe.
Notes from the future : And there we go.. Last update for 2005.  As I said, I was no diarist.  I was very busy with work and had two wrecked engines to rebuild but still this was a very 'light' year both racing and content wise..  I kept myself busy with TR Register stuff (we also have a TR2), here's a picture from one of the shows that summer.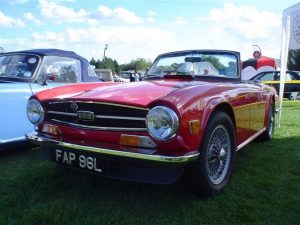 Another year with very few updates. I'm certainly no Samuel Pepys am I?
Anyway, 2005 has been quite a frustrating season with both of my engines being out of commission pretty much all year.
So, the fact that I haven't actually raced has contributed greatly to the lack of updates…
For added excitement though I'm rebuilding one as a Class C engine and plan to race with the modified Spitfires next year.
For the rest of this year I've been asked to co-drive in the Club Triumph 10 Countries run and then there's the Birkett 6-hour at Silverstone.
Both of which I am planning on doing and will update here (hopefully including photos).
Cheerio for now,
Richy