Rockingham
If you haven't been to the 'Home of the Free and the Brave' (their words, not mine) I suggest you do. The place is awesome.
We arrived the night before after collecting the car from Jigsaw, it certainly seemed to be running better after Mark had done his magic and I was quite looking forward to driving the track. On arrival we got talking to a couple of the Jaguar racers who had a garage in the pits and were to be holding a party there that night, we went along for a couple of beers and a bit of a chat, but had to say 'goodnight' at about 10.30 as we were knackered from driving all day.
Practice was very early in the morning (as they always seem to be) and I was tired and nervous about driving the huge circuit. Unfortunately though somewhere in the first few laps the red flags came out and we had to slow right down. I couldn't see what had happened until I turned onto the main straight, Clive Gimson had somehow ended up inverted right on the start finish line, the wheels were still spinning as I drove past. (I've 'borrowed' the picture from Jon Wolfe's web site)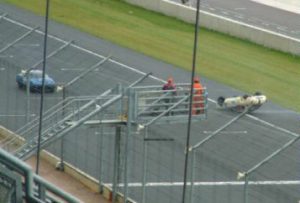 We were directed back into the pits and spent a very tense five minutes or so waiting to hear what had happened and if he was ok. Fortunately, he was.
After this practice for me was slow, I was a little shaken up and was taking no chances.
The race, on the other hand, was blinding fun. Kevan still had the measure of me in his lighter and faster car, but I was certainly snapping at his heels for the entire duration. In fact by the end of the race the whole front of my car was covered with crud from his exhaust. We both enjoyed the scrap immensely, the first of many I am sure.