Fault diagnosis and back pain.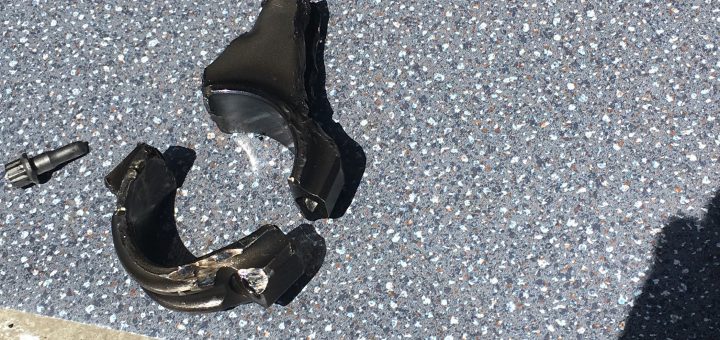 A couple of weeks ago I was making space in the garage,  kind of like a reverse Jenga in which you take all the small piles of stuff on the floor and try to make them into big towering piles without them falling over.
One of the small piles I was moving was a moving crate full of cylinder heads and as I hefted it about I felt something give way in my lower back.  'Oh bugger!', I thought as I began to walk around like a demented robot.
After 15 more minutes the pain was so acute that I gave up and came home.
I had to spend a couple of days in bed and a couple of weeks rehabilitating, but things seem to be ok now.  However, I've not had much to write about since.
Yesterday I decided that enough was enough and it was time to get the engine out of the Spitfire and see what went bang.
I started by stripping down the ancillaries and taking the head off.   The first ominous sign was that the number three piston was all the way down the bore.
However the head looked intact, so the next job was to pull the engine out and see what was going on inside..
This was all taking a bit longer than usual as I was going slowly due to my fear of putting my back out again, but I think the whole operation took about 4 hours from start to finish.
You can't quite see from the image, but if you read the report on the Zandvoort race you'll know that there was a hole in the side of the engine.
Unfortunately the piece of metal missing from the block had also holed the inside of the exhaust manifold.  I've not yet decided whether to weld it or give up on it.
Once the engine was out it was a relatively simple process to find the culprit..
All the other rods and bearings are fine, as are the main bearings, I suspect that a fastener snapped.
'Oh bugger!', I thought again.