Oulton Park
Notes from the future : I remember the incident with the TR7.  He came round and thanked me for not hitting him after the race.  It seems that by this point Kevan Hadfield was out in his Triumph Herald and his son Mark had joined us in Kev's old Spitfire.
The Fosters circuit at Oulton Park is probably now amongst my favourite circuits. There's lots to learn, lots of uppy and downy bits and changes in scenery, it's also quite fast and this all adds up to make it a great little race track.
I had had the sneaky (brilliant) idea of entering 2 races, so I had 2 practice sessions in the morning and I was hoping this would make the difference on the day. My first practice seemed to be going awfully (from my point of view) the new tyres on the front were all over the place initially and I couldn't seem to brake properly for any corner. In fact, I missed Fosters a couple of times and launched over the kerbing… It was not until the 2nd practice that I remembered I had new pads in the front and then it all made sense. In the first qualifying I had qualified 1st in class and in the second practice I had taken 2 seconds off this time. So I was secretly confident.
The race started fairly uneventfully, but I did notice how tightly the field held together for the first couple of laps. I had a good start and had managed to get a TR2 (Edwin Driver) between Barry and myself and was trying to keep it there. However I couldn't and soon Barry was snapping at my heels and I was unable to make much headway as I was now being held up by the TR2 every lap going round cascades and into Fosters. I tried a couple of times to get past, but to no avail as the chunky 2 litre tractor engine easily out-dragged me in a straight line. So I elected to stick close behind and use Edwins' slip-stream as a tow on the straights, occasionally moving out to block an advancing and increasingly pesky Barry.
The plan seemed to be working until (I think) the penultimate lap when, on rounding Lodge a bad thing happened. Steve Small (TR7) had spun and was sitting parked, the wrong way, in the middle of the circuit. Which is usually an OK thing to do, but not when parked about 10 yards in front of a rapidly advancing TR2/Spitfire combo. Edwin braked hard and swerved to avoid Steve, I braked hard and swerved to avoid Steve and Edwin and Barry who had the advantage of an extra second or so to ponder over the situation cruised around the lot of us. I ended up glancing off the TR7 in a shower of yellow and black fibreglass, but I didn't immediately feel it was too bad as I was still moving at quite a rate, so I continued up over Deer Leap trying desperately to think of a plan.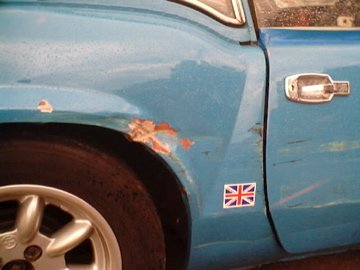 By the end of the start/finish straight Edwin had out-dragged both me and Barry, so now we were swapped around. I tried a few times to get past, but as Barry was now using my (genius) tactic of blocking the half of the circuit that wasn't occupied by the TR2 there wasn't much I could do and had to settle for another 2nd in class.
I wasn't too disappointed, as I could so easily have ended up with a DNF and a wrecked car, as it was I had a 2nd place and a fastest lap (a lap record, I think). Kevan finished just behind me in 3rd and his son Mark just behind him in 4th. A post-race post-mortem showed that Kev's fastest laps were very fast indeed and I think that the 'Bread Van' as John Wolfe has called it, will be a serious contender when Kev finally irons out the few remaining gremlins all new race cars seem to have. Mark, having now finally finished a race (although not without an early morning differential swap) will, I expect, be keeping us all honest before too long after he gets a few more races in his new motor.
The next race I did was a pit-stop race, which was postponed by about 3/4 of an hour due to crashing Jaguars. I didn't seriously expect to do very well, due to being horrendously outclassed racing against an MG-F and a bunch of 1800 MGB's. For the first half of the race I managed to stay on the tail of a blue MGB, which was about as much as I'd hoped for and set an amazingly fast lap (over a second or 2 quicker than my fastest lap in the championship race). As I was the only driver in my car I had a 45 second time penalty to serve (which seems about twice as long as it actually takes to change drivers…) and so, after this, didn't see another car for most of the rest of the race, which was probably just as well as my car was getting hot and loosing power, so I slowed down and set about enjoying a pleasant drive around Oulton and just worked on carrying as much speed as I could into Druids – which was a lot more than I dared at the start of the day.
The class C (modified) Spitfires also had an interesting race. With John Thomasson leading initially, followed by Paul Lucas and then Andy Vowell. John lost the lead when (I think) Paul gently punted him off into the grass. They finished Paul Lucas, Andy Vowell and then John who did some hefty catching up to 3rd place. Nig 'in the car' Gibbins didn't have the luck and performed a classic Druids manoeuvre, too wide on the exit, onto the grass, catapulted back across the circuit into the tyres. His car was not a pretty state after (see pic.),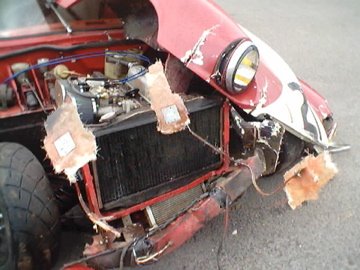 good luck with the rebuild Nig! Karl Dandridge (GT6) also had a spot of bad luck, with what appeared to be a blown head gasket. And Rej Jane attended, but didn't race and told us that he's planning to sit the rest of this year out as the damage he did to his engine at Silverstone was terminal and his missus is in the family way (congratulations).
Well, that was Oulton Park. I'm currently busy trying to sort out some dents to my car and I'll be back out at Rockingham on the 25th of May.