Engine…
Notes from the future : Again, this is old content that I'm restoring from before I started racing.  For what it's worth, the approach of racing with the original, high-mileage road engine didn't work out too well.  I think it lasted about 2 races before it wrecked itself.  When I've finished re-posting all this stuff we'll get on to how to do it properly (or at least better).  Also, sorry for the size of the pictures, they're from the olden days before we had as many pixels.
Spitfire MK IV's come with a reasonable engine (considering it's origins date back to the 1940's or so).
For class A the regulations are fairly strict on what you can and can't do to the engine – i.e. no porting of the cylinder head, no lightening of components…
I've decided on the following (for now).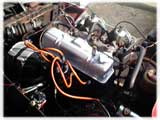 Block (inc. crank/pistons)– Leave as is… I could go to the trouble of rebuilding and balancing, but I figure all this can and will be done as soon as it breaks. For now, I want to keep costs down and get some signatures on my license.
Cam – Fit a fast road cam, there are various types, I'll probably speak to Jigsaw or similar and see what they reccomend. While I'm doing this I may as well renew the timing chain and tensioner and do something about the leaky oil seal on the timing cover.
Distributor – Says in the regs. that Class A must use contact points ignition, fair enough. I'll probably fit a new/remanufactured distributor with a modified advance curve (Aldon do these I think? Any ideas?)
Exhaust – As mentioned in the intro, I have a twin sports exhaust already fitted and a free flow manifold. These should do for now. I've also wrapped it with 'that fancy' insulating wrap – I did this for two reasons; firstly, the scientific one on the box about exhaust gas velocity (?) and secondly, you're less likely to burn your hands when tinkering after a run/race.
Oil Cooler – Everywhere you read says fit one, every car you see has one. This is either incredible marketing by Mocal or a very sensible and wise thing to do. I am sensible and wise and fitted one.
Head – No porting allowed. So I'll pull it off and clean it. I may treat it to a new set of valves and springs too.
Rocker gear – I presume 'no lightening of engine components' refers to push rods as well. If this is the case I'll just replace the lot, rockers as well. Note – you can't use rolling rockers in class A.
Sump – According to Mr. Wolfe, 'Baffle it or experience horrendous oil surge.' I'm not sure how to do this at all, any advice?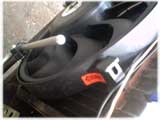 Radiator – Mine seems ok for now, I fitted a kenlowe. I'll have to see what happens when I hit the track, I may upgrade to the slightly bigger 1500 radiator if required. But, I've never had any problems so far. I will, I think re-fit the cowling or an equivalent.
That's about it for the engine at the moment. No doubt it will only last about 10 minutes on the track, but then I can revisit this page and tell you how I 'done the whole thing in steel and it only weighs about 3 paaahnds and revs at 30,000,000 rpm wif seven 'undred break at the wheels' etc…