Replacing the dial face of a modern tachometer with the original
Some years ago I bought a quite expensive Smiths 8000 RPM tachometer, it was excellent but for some reason I bought one with a white dial and I never liked the look of it.
However, I do have plenty of original Spitfire tachometers, both from MKIII/IVs and 1500s so at some point I decided that I could simply swap the dial, needle and glass/bezel for that of a 1500 Spit and I'd have what looked like an original tachometer, but underneath it'd be a modern stepper motor driven unit capable of handling 8000 revs.
I recently did this again to swap the 1500 dial for my original MKIV one for a couple of reasons; firstly, I prefer the look of it and secondly, the 1500 one seemed to have worked loose and occasionally the needle would stick on it.
It's a fairly easy process.
Step 1 is to dismantle the target tachometer, the bezel should come off by gently teasing the tabs on the back.
Careful not to get too many oily fingerprints on the glass 🙂
Secondly you'll need to remove the needle.  This can be delicate, but basically it is just going to pull off.  The easiest way to do this is with a couple of teaspoons.
Thirdly, I marked up where the 0 and 7000 RPM points were on the original scale and removed the original face.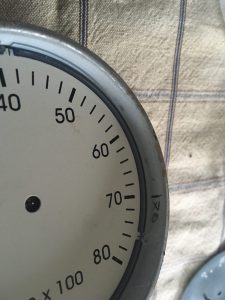 Next, I just lined up the original face with the markings (or as close as you can get) and the center hole – this is important because there stepper motor is very delicate and any friction on the needle will very likely stop it working.
Behind the face is a plastic screen, which I drilled to accept the screws from the original face and then put it all back together.
Here it is before re-installing the glass.