Oulton Park
Notes from the future : It seems that this was my first race.  I'd taken the Spitfire to Brands Hatch a couple of times before this to perform 'testing', but as I had nothing to compare it and no real plan to they were more shakedown trips. I remember that I towed the Spitfire to Oulton Park with a Renault Laguna and a borrowed trailer, we slept in a tent.   I can't find any pictures of the event, so I added one from about the same date of my car ready to go on the drive (yes, I initially built it on a drive in a London suburb.. I must have been mad)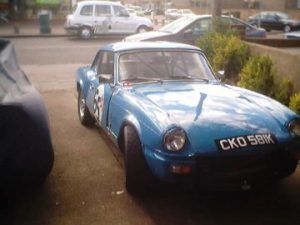 Oulton Park is miles away up north for me and as it was my first outing I wasn't taking any chances so we set off the day before and planned to camp in the paddock.
We got there just as it was getting dark, it was also blowing a gale and literally throwing it down with rain as we tried to set up our tiny tent on the tiny grass verge next to the paddock. The other drivers who had arrived early had sensibly decided to decamp to a local boozer, we followed their lead and, although we never found them, discovered a pub willing to serve us food at nearly last orders (phew).
I had almost no sleep due to the wind and rain threatening to lift the tent (and us) away into the night, like a budget version of the Wizard of Oz and was up in plenty of time for the mornings signing on.
The morning practice session was my first 'drive' on a circuit with the other Triumphs, the weather hadn't improved and, understandably, I was nervous. I was getting into the swing of things when, on about the 3rd lap I span after taking an 'experimental' line into the first corner.
Fortunately, I ended up facing the correct way and was able to start the stalled engine and continue.
I qualified, but quite a few seconds behind Kevan in the other class A spitfire, but I was reasonably happy with my progress.
There was then a huge wait until the race. I spent most of it drinking coffee and wishing I'd slept better. Sometime during the interim period I was the subject of much 'tyre pressure' hilarity amongst the drivers when they found out that I was still running at road pressures (incase you're wondering, correct tyre pressures for a racing spitfire are in the region on 20psi).
Then came the race. And what carnage. From something like 22 starters on the grid only 15 cars came home, I managed to keep out of the way but it seemed like every corner I turned there was a new incident, at one point I came round the chicanes to find part of the tyre wall obstructing the track. The race was cut short and only lasted about 10 minutes, and I finished what I thought was a respectable distance behind Kevan (who has a better sorted and lighter car than mine).
Besides, given the amount of cars that had to be brought back by the marshals, I was glad to be able to drive it onto the trailer…