Sponsors
Notes from the future : Firstly, Marlboro no longer sponsor motorsport anyway (allegedly).  Secondly, I'm still happy with the painting we bought from Ian so I'm quite glad to be restoring this old content and seeing that not only is his site still there but he seems to be going from strength to strength.  I made this page when I was optimistic and excited about the prospect of racing, no one ever contacted me to put their logos on a club racer but in my experience you can get the odd discount here and there..
Well, I'm still waiting to hear back from Coca-Cola, Marlboro and Orange, but I do have one sponsor at the moment.
Of course, anyone else who wants their company logo on the car is more than welcome to contact me, believe me I'm cheap.
Right then.
Ian Guy is the man responsible for the Spitfire sketch on the right there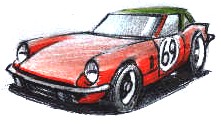 , he also painted Carol's TR-2 (with 3A grille – see below) and tonnes of other stuff.
He's a painting type chap who loves cars (hence the name motoring artist) and is available for commission work. He also used to own the odd Spitfire, so he must me ok 🙂
For those of you reading this who race cars, what could be a better present to yourself? I'm planning to get a painting of the spitfire as soon as it's finished.